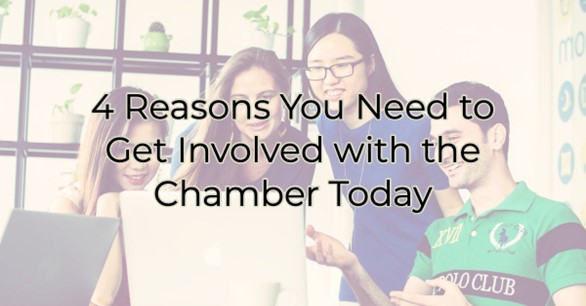 Businesses join the chamber of commerce for several reasons. Years ago, it may have been expected; just something you did when you opened a business and wanted to be in good standing in the community.
But these days it's more likely a business joins because there is a direct advantage to them personally. Maybe they wanted a ribbon cutting or need the advocacy or wanted a marketing opportunity that membership allowed them.
Yes, there are many reasons to join the chamber and tons of benefits your business can receive from membership. But aside from simply writing a check and receiving a set of benefits, there are reasons why you should become personally involved with the local chamber of commerce.
Plus, the chamber extends its benefits to all of your employees so you can use chamber membership benefits as employee benefits. Share this with them as well.
4 Reasons to Get Involved with the Chamber
Let's place the advocacy, marketing, advertising, and public relations benefits of chamber membership on the back burner. This article is about what the chamber can do for you and your employees specifically, not the business. Yes, the chamber can bring more attention to your business, which can create more sales opportunities, but these benefits and this personal involvement are things that can help you outside of the business.
Education Opportunities
The chamber has a number of education opportunities where you and your employees can learn about important matters for free (or at a very low cost). Chamber webinar topics may include things like diversity, how to excel in social media, and economic interests in your area. They can help you become a more well-rounded professional, change careers, or get up-to-date on important topics in the community.
Leadership Experience
The chamber offers a lot of opportunities to volunteer for different committees or events. You may find a volunteer position in a subject that interests you like women leaders, diversity, workforce development, or marketing. Not only can these volunteer positions be added to your resume, but volunteering could also help you meet people with similar interests and help you grow your professional network. Speaking of…
Networking
Getting involved with the chamber can help you meet more people and grow your professional network and make friendships. Even in communities where social gatherings are still mostly virtual, chambers have networking sessions to help you stay connected.
Business Expansion and Hidden Opportunities
As you grow your network, you may learn of additional business possibilities that you could add to your business or you could use to launch a new one. You may learn of seed money, grants, SBA funding, or private opportunities.
Often business deals get made before anything is formally published or requested. Being personally involved in the chamber may help you be a part of those types of discussions and make you aware of opportunities before they become public.
The same may be true of the hidden job market. A contact may tell you they're looking for someone before posting it on a job site, giving you the advantage.
Chamber benefits for your business are amazing. They can really help you increase your number of customers and get your name out there. But those aren't the only benefits. If you get involved individually, there are many benefits to your professional growth and career. Plus, those benefits can be given to all of your employees too. That can be a real selling point for someone looking for a great company culture.
____________________________________________
Christina R. Metcalf (formerly Green) is a marketer who enjoys using the power of story and refuses to believe meaningful copy can be written by bots. She helps chamber and small business professionals find the right words when they don't have the time or interest to do so. 
Christina hates exclamation points and loves road trips. Say hi on Twitter or reach out on Facebook.