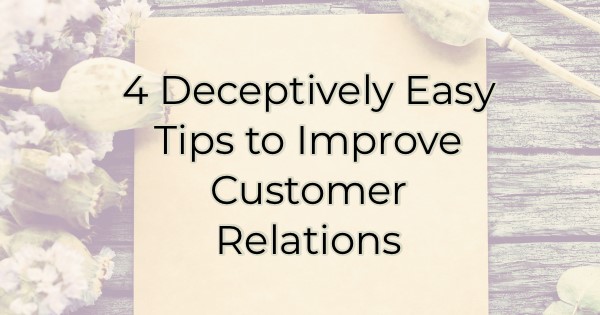 Good customer service isn't something everyone is born knowing. While most of us have been customers the better part of our lives in one aspect or another, many of us don't take the time to stop and think what makes extraordinary customer service and what tactics build strong customer relations.
But we sure know bad customer service when we experience it.
That's why it's important if you want to offer your customers or clients extraordinary service and build on the relationship that you train your staff accordingly. And for the record, doing one's job correctly is not extraordinary customer service. Stellar customer service is about going above and beyond, surprising and delighting, building customer relations with every choice.
Here's how to make sure everyone on your team has a clear understanding of the level of service you're expecting and how they can implement it.
Wait one sec….
Before you shoot for amazing, you have to achieve competency. That means all of your team should be well-versed in the product or service and know the expected process or protocol with selling and set up. Once they have mastered the basics, they are able to progress to amazing customers and building relationships.
Be Happy to Be There
A disgruntled employee cannot provide excellent service nor can they improve customer relations. Encourage your team to come to you with issues involving their jobs before customers feel them through a negative attitude.
Smile and Be Welcoming
If clients come in to your place of business, always make sure they are warmly greeted. If customer interaction is all done through the phone, encourage employees to smile while on the call. Place a mirror in their workstation, if needed. A smile comes through in the voice. If service is all provided via the internet, consider implementing a system that allows customers to see your employees either through a webcam or as a facial image attached to all correspondence. Faces make everyone feel more at ease, show there's a human on the other end, and makes building connections easier.
Listen and Anticipate
Listening to what your customers or clients really need is important and can alter outcomes. For instance, they may be buying a nightlight and may be asking about how bright it is. A salesperson can easily dismiss this question but the buyer's intended use in this example is very important. Are they lighting the path to the bathroom for an elderly relative? Or are they trying to reassure a small child who is afraid of the dark? Understanding the why behind their purchase can help employees provide more assistance to customers and increase the upsell potential for complementary goods or services while building better relations by solving a problem for the customer.
Mirror Language
Most people want to be around others who are like them and understand them. One of the strongest ways to promote that feeling is through mirroring. Mirroring is about adjusting your body language and communication patterns to your audience. This is most often seen in dialogue and speech.
You can teach employees to mirror the customer's words in conversation. For instance, if an employee is speaking to someone with a slow pattern of speaking, using a brusk, clipped tone can immediately place that customer on the defense. If, on the other hand, the employee slows their speech pattern to match the client's, the client will not feel rushed. The same is true of words. If someone is using a very simple vocabulary, train your employees not to insert overly complicated language into the conversation. If they don't, that customer may feel like the employee is trying to talk over them or belittle them.
When it comes to extraordinary customer service, there are many really quick and easy things you can implement that will make a big difference in how customers feel in your place of business and build better customer relations. Help your team master the basics of what you provide and how. Then help them become more welcoming and appreciative of what your customers do for your business. In today's review-heavy climate, you can't succeed without good customer service. Remember, extraordinary customer service and relations begin where everyone else's attempts stop.
______________________________________
Christina R. Green teaches small businesses, chambers, and associations how to connect through content. Her articles have appeared in the Midwest Society of Association Executives' Magazine, NTEN.org, AssociationTech, and WritersWeekly. She is a regular blogger at Frankjkenny.com and the Event Manager Blog.
 Christina is an introverted writer on a quest to bring great storytelling to organizations everywhere.